Our Clergy And Staff
Rabbi Micah Streiffer
Rabbi Micah Streiffer believes in thinking outside the box! Since he arrived at Kol Ami in 2011, the congregation has seen increased participation and engagement in the areas of music, learning, and ritual. From the classroom to the bima, from the board room to the hospital room, from "Sushi & Study" to "Rock & Roll Shabbat," Rabbi Streiffer is excited to be part of this thriving community.
A skilled teacher and a gifted speaker, Rabbi Streiffer is known for his informal and approachable style on the bima and in the classroom, and for making Judaism accessible and meaningful for people of all ages and backgrounds. His rabbinate is guided by the principles of Lifelong Learning, Inclusiveness, and Tikkun Olam (Repairing the World). Since arriving at Kol Ami, he has worked to build or revitalize the congregation's activities in a number of areas, including worship, learning, Chesed ("caring community"), and interfaith connections. He serves as an active member of the Reform Rabbis of Greater Toronto.
Rabbi Streiffer grew up in south Louisiana, and was ordained a rabbi in 2007 at the Cincinnati campus of the Hebrew Union College-Jewish Institute of Religion. He served previously as Associate Rabbi of Temple Beth El in Charlotte, North Carolina, and has spent extensive time as an educator, musician, and rabbinical faculty member at a number of Jewish summer camps. He is active in the Reform Movement, having participated in a number of committees and boards at the local, national, and international levels. He is a corresponding member of the CCAR Responsa Committee, which deliberates on matters of Jewish law for the Reform Movement.

In addition to the bima, look for him at the guitar store, the sushi bar, the CrossFit gym, or cheering on the Blue Jays. He is the proud father of three sons (only one of whom is taller than he is, as of this writing).

Read Rabbi Streiffer's messages and sermons here.
Check out his blog and publications here.
David Bernstein

Cantorial Soloist
David is a long-standing member of Kol Ami, and has served the congregation as a Religious School teacher, a board member, a member of the Choir, and part of the band "Shtyx." Outside of Kol Ami, he has been active in the Jewish community as a camper and counsellor at Camp George, a songleader at NFTY-NEL, and a member of Hillel.

He has actively pursued his passion for music as the lead of the "Arbah B'shir" Barbershop Quartet, and as a member of the Toronto Jewish Chorus and the Kol Neshama Choir. Throughout his life, it has been the combination of music and community that have forged his strong connection to Judaism. David is excited to help forge these same connections at Kol Ami through song and prayer.

Outside his role at Kol Ami, David works as a lawyer, practicing in civil litigation. In his spare time, he can be found baking ginger snap cookies, playing board games and tossing a Frisbee around.
Judy Silver

Director of Education
After 11 years in Minnesota, Judy returned to her childhood home of Toronto, where her passion for Jewish education first took root and flourished, through family involvement in synagogue life, NFTY-NEL (aka NELFTY!), and more than a decade at URJ Goldman Union Camp Institute in Zionsville Indiana.
Judy's philosophy of education is simple: to create memorable, relevant, fun, and engaging educational experiences, accessible by all learners, and all styles of learning. Judy began her academic career at the University of Toronto, intending to become an archeologist. After travelling to Israel she turned her focus to Jewish education, and continued her studies in Jerusalem and Tel Aviv. She then received a B.A. and B.Ed. in Judaic Studies from York University (with a minor in Anthropology, to put all that Archeology study to good use!). Judy went back to school in 2015 at Hebrew Union College to obtain her Masters Degree in Religious Education and to complete her Reform Jewish Educators certification in 2017. She is starting her 8th year as Kol Ami's Director of Education.
Judy's professional career includes 11 years as a teacher at Bialik Hebrew Day School, 15+ years as a supplementary school teacher at synagogues in Toronto and Minneapolis, and 5 years as Director of Education at Shir Tikvah Congregation in Minneapolis. While at Shir Tikvah, she created a professional development program for school staff, revitalized post-b'nei mitzvah participation in the school, and partnered with a community service organization to champion and implement an inclusion program for all special needs students at the school. Judy served as chair of the Jewish Educators of Minnesota, on faculty at URJ camps GUCI, OSRUI and Camp George, and is a member of National Association of Temple Educators and The Ontario College of Teachers. She is currently entering her second year as chair of the Reform Educators Council in the GTA.
When she's not creating curricula and developing new educational programs, she can be found Israeli dancing, decorating cakes, shopping for something new for her "Peanuts" collection, singing with her husband and just hanging out with her kids. An always optimistic Blue Jays fan, she can also be found yelling at the TV during the baseball season. She married Ian Silver at GUCI and they have three amazing kids, Toby, Sharon and Jeremiah.
Cally Rootenberg

Director, Neshamah School of Kol Ami
Cally has been a teacher at Neshamah since its start seven years ago. She has a Bachelors of Arts, majoring in Jewish studies and a Bachelors of Education from York University. She also has a Masters of Education at Western University with a specialization in early childhood education. During the week She works as a teacher in the York Region District School Board and does consulting work for The Julia and Henry Koschitzky Centre for Jewish Education.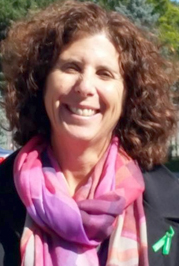 Joanne Shinwell

Office Manager

Joanne is delighted to be part of the Kol Ami family. She is excited to use her 20 years experience in office administration to support the staff and community. Joanne comes with a background in event planning, fundraising, and social work, and is an active and dedicated volunteer within the community. She has two adult children and two Portuguese water dogs, and is an avid golfer.
Aron Katz

Senior Youth Advisor
Aron has been working with Kol Ami's Senior Youth Group, TAKAY, since 2009 and has over 10 years of experience in the workings and handling of youth group programming. Aron has his youth group roots right here at Kol Ami, having been actively involved in TAKAY and the NFTY-Northeast Lakes Region throughout his high school career.

As advisor for TAKAY, Aron has numerous responsibilities, from working with the youth executive on program planning and leadership development, to acting as a chaperone for our youth at weekend events and retreats, to simply offering the youth an open ear. Aron is proud of the work TAKAY is doing in our temple community and the greater community at large and he is committed to the growth and development of all our youth members through the wonderful youth group experience.
Aiden Orzech
Junior Youth Advisor
Aiden is a student in the Jewish Teacher Education Program at York University. He loves reading, seeing movies, and playing with his puppy. He teachers Grade 5 at Kol Ami in both schools and is now the new TICKY (Jr. Youth Group) advisor. He can be reached at alo1224@gmail.com.
Mathias Memmel
Choir Director
Mathias Memmel is a graduate of the Bachelor of Music program at the University of Toronto where he studied under the tutorship of Elizabeth MacDonald. Mathias previously studied under the late Brian Emery and Barbara Collier. He has been a member of many fine ensembles including: the National Youth Choir of Canada, the Ontario Youth Choir, the MacMillan Singers at the University of Toronto, directed by Dr. Hilary Apfelstadt, and the Bach Music Festival of Canada Chamber Choir, under Gerald Fagan. Mathias is currently a Choral Scholar with Pax Christi, under the direction of Stephanie Martin, and Orpheus Choir, under the direction of Dr. Robert Cooper. He currently works as Vice-President Internal at the University of Toronto Students' Union.
Mon, May 20 2019 15 Iyar 5779